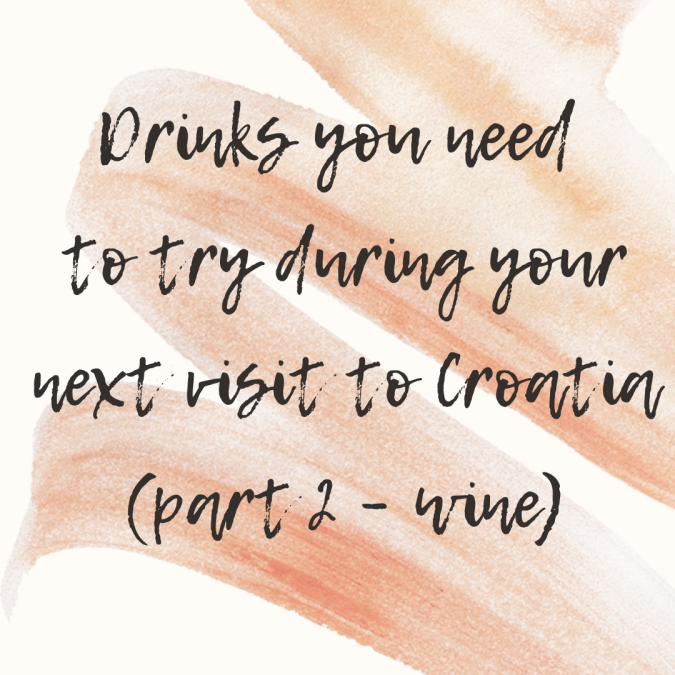 Drinks you need to try during your next visit to Croatia (part 2 – wine)
Wine lovers can be Joyce as Croatia is a wine paradise just waiting to be discovered. Wine has been produced in this area for thousands of years and the wine scene is very lively and enthusiastic. You'll be able to find all of those mainstream sorts like your cabernets, merlots, and sauvignons but also some indigenous sorts it would be a sin to miss like plavac mali or pošip. So without further ado prepare your glasses and dive in.
Sparkling wine – there is nothing like a nice glass of sparkling wine to put you into a festive holiday mood. Sparkling wines are the latest trend in Croatian winemaking and there are varieties to choose from. Most of the producers come from the Plešivica region (Tomac – a true pioneer in this segment, Griffin, Šember, Korak) however winemakers are experimenting in Dalmatia as well. I would recommend you to try Degarra Primo – made from pošip or Bačić winery Pjer – made from another local wine sort cetinka.
White wine – when the summer temperatures start to rise it's time to grab a glass of cool white wine and find some shade. When it comes to white wines graševina is a sort you won't be able to miss. It's the most cultivated sort in Croatia (22%) followed by yet another white wine sort malvazija. Graševina gives its best results when planted in the continental parts of the land whilst malvazija is sort of a flagship of Istria. Some less known Croatian sorts are coming into the light during the last few years like žlahtina, grk, vugava, maraština, škrlet, and cetinka but if there is only one bottle of white wine you must-try during your trip it has to be pošip. Pošip originates from the island of Korčula but lately, it's been planted on the coast as well so you will be able to find it in our neighboring Kraljevski vinogradi and Degarra winery.
Rose wine – the world of rose is more exciting than ever as production goes in two completely different directions - on one side you have your pale, light roses and on the other the dark, strong-flavored ones - it's easier than ever to find something you like. If you like light Provence style roses we recommend you to tray Laguna Rose, Kutjevo Premium Rose, or Degarra Rose. If you are looking for a stronger version Rose sccuro by Kraljevski vinogradi is the one to beat.
Red wine – we can proudly say that you'll be able to find some spectacular red wines in Croatia. If you want to try Croatian style merlot, cabernet sauvignon or syrah try Badel's Korlat line but if you are looking to try some local sorts crljenak is the one to start with as it's actually the most spread Croatian wine sort in the world but you probably know about it under a different name – ever heard of zinfandel? Other must-try red wine sorts are teran (especially if you are spending your holiday in Istria), babić (Šibenik area), and lasina (think of pinot noir). However, the true king in this category is plavac mali. This rich, fruity, deep red wine with lots of tannins and a full-body gives its best results on the fields Dingač and Postup on Pelješac, Ivan Dolac on Hvar or Komarna on dry land.
So that was our short introduction to Croatian wine, join us next time if you want to learn more about beer, gin, and schnapps production.